An excellent domestic wired alarm system that is easy to use and reliable. It is a high spec system made by Scantronic that is designed to offer maximum flexibility. As a company we aim to provide a friendly, professional service and supply an alarm that is tailored to you at an affordable price. All work is carried out neatly and to a very high neat and professional standard. We pride ourselves on excellent customer service and quality of work. We hold public liability insurance for your peace of mind also. Please do read our feedback.
System features:
Up to 8 zones (sensors) - Pet Sensors available at no extra cost
ABCD setting options - Full and Part Set (Go to bed feeling secure!)
Easily set and unset using a keytag (no need to remember codes!)
Optional extra - System will call 3 phone numbers when activated
Live bell box with LED light - showing our logo
Option of dummy bell box on rear or side of property
Control Panel/KeyPad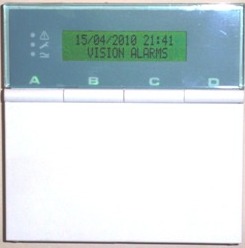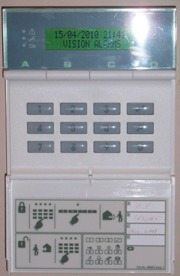 A small easy to use keypad with LCD display which is BS4737 approved. The bottom section flaps down to reveal the keypad. A very neat and discreet keypad. It can have up to 8 zones (sensors) and can programme in 4 different areas of the house so that you can choose if you want to set part or the whole of the house. E.g. When you go to bed you only set the downstairs sensors so that you can still walk around upstairs without activating the alarm. You can either enter your 4 digit code to set or unset, or simply hold up a key tag (details below) to it and the alarm with set or unset.
---
Keyfobs: Activating and De-activating the alarm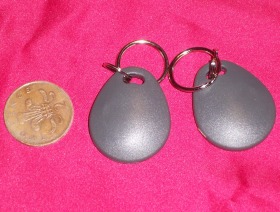 The fantastic thing about this control panel is that when you set or unset the alarm you do not need to enter a 4 digit code each time. You simply hold the small grey thin fobs up to the panel and press either A, B, C or D depending what part of the house you want to activate. It is much simpler and quicker than entering codes and you can give a tag to family or friends and they won't have to memorise the code. On returning to the house, simply hold the tag to the control panel and the alarm will unset. You do not have to press any buttons at all. (Although, there are back up codes should you need them). The fobs are not like remote controls, so do not need batteries replacing or run the risk of failing if it gets wet on your key fob.
---
Sensors/PIRS: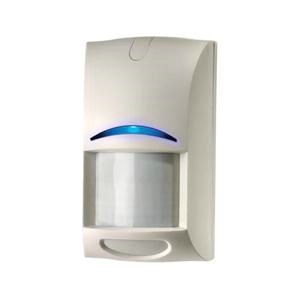 These are the small white boxes usually found in the corners of the rooms pointing downwards. You would usually have one in your entrance hall, lounge, dining room, kitchen and upstairs. Although this can vary depending on the size of house. We also supply pet sensors, meaning that if you set the alarm it will not be activated by pets walking through the sensors. Note: Sensors are animal immune to approx 40lbs in weight. So if you have a large animal they may not be suitable.




__________________________________________________________________

Internal Siren: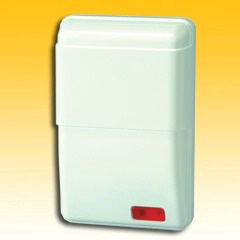 The internal siren/speaker activates if a zone is breached. It is a white box approx 20 cm in length that is fitted in your hall usually. The idea is to amplify the noise of the keypad/control panel inside the house to create a sense of panic if there is an intruder in your house, therefore hoping the intruder would flee. As the siren/speaker is louder than that of the keypad noise it makes you better aware of when the alarm has been activated. An external siren has the benefit of notifying your neighbours that there is a possible threat to your house, but they do not always act immediately, where-as the internal siren can.
_______________________________________________

External Siren: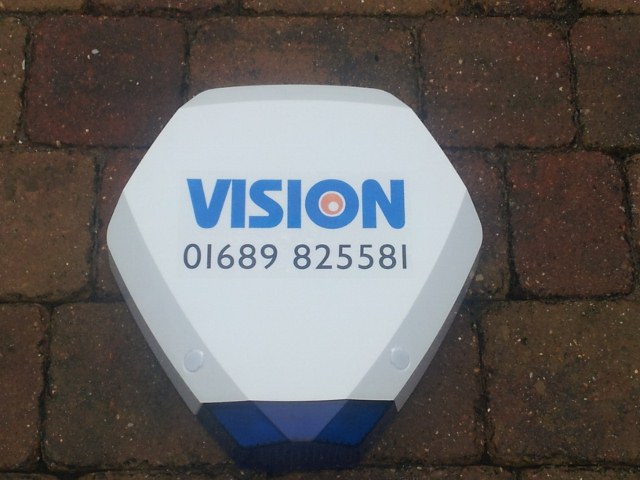 This is a professionally fitted live Alarm box that sounds at 112db. Two blue or green strobe lights. Logo printed. The external Siren boxes we use are always anti-sabotage and to a high spec.






_______________________________________________

Optional Extras
Dummy Box:
This is an external siren that looks like the real thing but is not connected up. You would normally add this to the rear of your property as a deterrent and to show that an alarm is fitted.
Combined Speech Dialer – Communicator: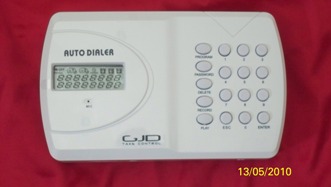 A fantastic feature of this model is that if the alarm is activated, the control panel can call 3 designated telephone numbers of your choice to inform you wherever you are that your alarm has been activated. It will ring you and play a recorded message that you have pre-recorded. This is an excellent benefit as gives you greater peace of mind when you are out of the house. It can avoid the cost of having a monitoring service. Having an intruder alarm fitted is excellent security but going one step further to be informed when the alarm is activated means you are even better protected and informed.
PRICE INFORMATION

We aim to be as reasonable as possible with our pricing, but also ensuring a professionally fitted quality system. Please call Alan on 07810 871007 who will be happy to visit and provide you with a quote.